your brand
Regular price
₹ 999.00
Sale price
₹ 799.00
Unit price
per
Sale
Sold out
Automatic 30 LED Rechargeable Emergency Light
The Emergency light is with built-in long-life and maintenance-free rechargeable Lead Acid battery of high capacity as 2400 mah. The battery has more than 500 times charging and discharging recycle life.LED is in advantages of energy-saving, high light, long life, and high power. Both high light and dim light for choices.
Instructions:
Connect the power supply, if the charging indicator turns on, then it's in charging status. The charging time needs about 20 hours. b/weak light can be chosen by pushing the switch up/down. Recharge it before the light is completely invisible, otherwise, it will cause damage to the battery. Frequent use is required, and long-time nonuse is inadvisable.
If you don't use it very often, please recharge it every 3 months, or the battery's lifespan will be shortened.
Cautions: Do not point the light to the eyes directly, or it will affect eyesight. Children must be supervised by adults before using it. Keep it away from rain and dampness. Keep it away from the explosives and inflammable while it is charging.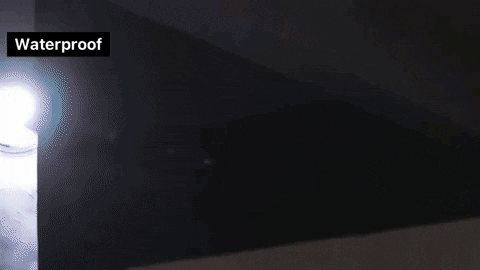 Sufficient Brightness
Its highest brightness is 600lm, and the beam angle is 360 degrees, providing you with bright enough light.
30 LED Rechargeable Emergency Light
With the built-in rechargeable batteries (USB cable and car charger included), you can take it anywhere you need a handy light.
You can also add 3 D-size batteries to the lantern, never need to worry about power running out of the built-in battery. (D-size batteries not included)
It takes about 4-5 hours to be fully charged.
Versatile
This portable Emergency Light is suitable for camping, fishing, emergency lighting, etc.
Packaging:
The main large light x 1
Features:
Bright Waterproof Solar Wireless Security Motion Sensor LED Night Light for Outdoor/Garden Wall (Black) with Plastic packing Sealer free
Easy assembly: installation is a complete breeze, taking no tools - just your hands needed. No complicated wiring. You just need to put the screw in to hold and stick to any surface (bricks, stucco, siding, wood, metal, glass, etc). It is very easy to move if needed and looks great anywhere
Long-lasting durability: solid plastic construction for withstanding years of sunshine, rain, snow, ice, and wind. Waterproof, heatproof, and durable.
Not only do they provide added security for your garden, yard, aisle, porch, patio, or driveway, but also blend nicely with your home decor Three lighting modes: it will auto turn on dim light when in darkness or at night, and auto turn off when in daytime or bright area.
Share
View full details